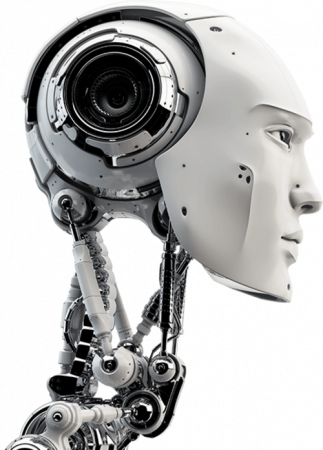 ROBOTS INDOOR POSITIONING AND TRACKING WITH COMPUTER VISION
Robot tracking and localization is now possible using Dragonfly
Dragonfly computer vision technology allows you to monitor the 2D location of robots and AMR using just a camera and a computing unit. Dragonfly can leverage the hardware on-board of your robot and work entirely offline. It can work inside known and unknown environments and does not require the deployment of specific hardware in your venue. No receivers, no tags, no antennas, no nodes. Nothing has to be deployed through the environment. Dragonfly is a super flexible technology for indoor tracking and positioning.
How does Dragonfly for robots positioning and tracking work?
Dragonfly is a computer vision technology that provides very precise location. Dragonfly calculates the location thanks to a camera and a computing unit. No sensor fusion, no MEMS, no hardware to be deployed on site, no QR codes. Dragonfly needs a 640 x 480 pixels video stream. The camera can be monocular (ideally wide angle), or stereoscopic, and it can point towards any direction (preferably towards the ceiling).
Dragonfly is the best alternative to LiDAR.
Price: a good LiDAR costs much more than Dragonfly.
Setup speed: the installation of a LiDAR is a very technical procedure, while Dragonfly can be setup also by people without a strong technical background.
Durability: LiDARs are quite fragile and sensitive. Everything works well until they end up against something.  It takes very little to break a LiDAR or put it off axis. Dragonfly works using the on-board camera, and as long as the camera works Dragonfly can work.
For all these reasons, our customers consider Dragonfly to be the solution to their indoor location problems!
Dragonfly is an accurate indoor location system based on computer vision.
The location is computed in real time using just an on board camera and a computing unit on board of the device to be tracked, thanks to our computer vision algorithm. Computer vision, odometry and artificial intelligence are used to create an accurate computer vision system, in order to deliver a precise location for multiple applications. It is an excellent solution for the precise indoor tracking of AMR, robots and drones (in the 3D space).
Outstanding API and CSV files can be used to integrate the location data into external applications, navigation systems, remote tracking software, and more.
Dragonfly allows to monitor the real-time location of the robots from the 

Dragonfly Cloud Dashboard

.
ROS nodes can be developed by Onit's team to ease the integration with ROS.
Are you ready to get started?​
Our customers consider Dragonfly to be the solution to their location problems