STREAM VIDEOS
FROM DJI DRONES
IN REAL-TIME
A valid alternative to RTMP! Acquire DJI drones' video streams in REAL time, using the WebRTC technology.
DJI drones do not offer a valid way to stream the video in real-time: in fact, the latency can be as high as 5 seconds, and this can be an issue in many cases.
For this reason we have developed the DJI Android streaming library that allows to properly stream the videos coming from any DJI drone to a remote PC or remote server with an incredibly low latency (lower than 1 second!).
As a result, Software Developers can integrate our library into an Android App.
We leverage WebRTC to make the drone video acquisition simple and fast, reducing latency and lag.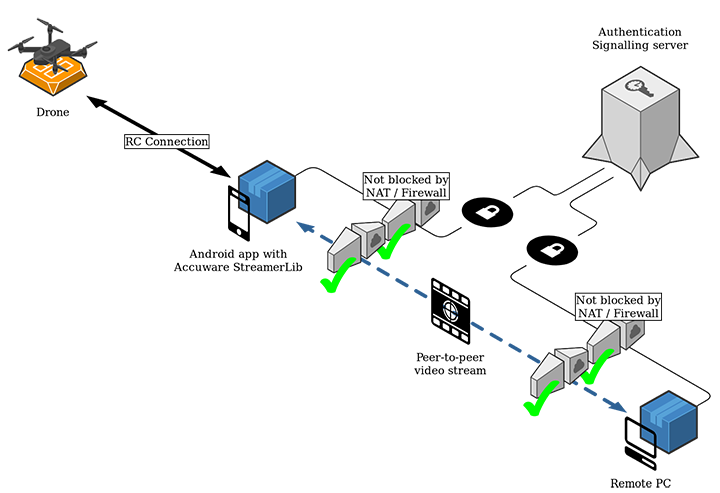 The DJI Streamer Library is an Android library for software developers.
Therefore, developers can integrate the library into an Android App: kindly note that our technology is not meant for end-users.
Our Library enables your DJI-SDK based app to capture the H.264 video of any DJI drone. 
The output
The decoded output of this process is then transcoded to any video standard (e.g. H.264, VP8 and VP9) and forwarded in real-time with very low latency to a remote WebRTC client, thus allowing external applications to acquire the video and use it for multiple purposes.
DJI drones provide the video through the DJI remote control, which is connected to the Android device via USB or cable. As a result, you can get the DJI drone's video in real-time anywhere in the world and use it for any purpose.
At Accuware we use the DJI Streamer Library to acquire the video for Dragonfly, our patented visual SLAM technology.

the latency of the stream is lower than 1 second! You can't find anything faster on the market. 
Full peer-to-peer connection
The video does not go through a 3rd party service, nor through Accuware's cloud. As a result, the connection is secure and faster.
No need for a publicly available RTMP server
The remote PC receiving the stream can be behind a firewall, or a 4G, 5G, LTE connection and it is going to work the same way without any special configuration. Therefore, our library is extremely flexible and versatile. 
The resolution and bit-rate of the stream is automatically adapted to the current connection capacity. However, the maximum resolution is 2000 by 2000 px.
No need to install anything on the remote PC to watch the stream.
Do you like our DJI streaming library?
Purchase your perpetual licence TODAY at an early bird price
of 497 USD instead of
695 USD

!
Testimonials from real customers
Incredibly helpful technology. Most intelligent customer service experience I've ever had.
With Dragonfly we are now able to locate and track hundreds of forklifts across 28 warehouses in the USA. The ROI generated is way higher than our expectations, since we have been able to optimize the routes, picking processes and aisle management.
A wonderful Support team and a very useful product, very well structured.
The team has been very supportive and the installation is fairly simple. We hope to keep moving ahead with you and the approach you suggested supports that. Again, we appreciate the continued support and direction as we work through our proof of concept and pilot phases.