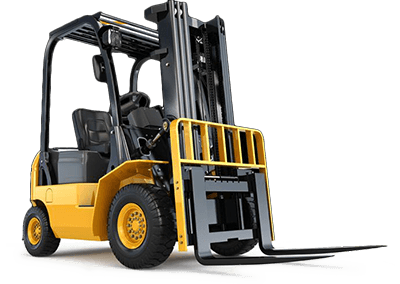 Improve equipment usage, reduce accidents, and improve productivity with Dragonfly forklift tracking system.
You can setup and install our Dragonfly Streamer in 4 minutes and immediately track your forklift.
Forklifts Tracking and Logistics Management
Purchase, leasing, and operation of forklifts are an expensive investment to manufacturing companies. In addition, they can get involved in accidents that create a big safety risk to your business.

Getting the precise location of forklifts becomes essential in these decades: logistics is moving toward automatic processes and integrated technology to improve operations and the forklift fleet management.
You can setup and install our Dragonfly Streamer in 4 minutes and immediately track your forklift.
All these issues translate into high costs in time, money, and brand trust.

Similarly, site managers can drive high returns by knowing just a few simple pieces of data:
- Where each forklift is,
- Where it has been,
- How long it spends in each location.
With Dragonfly you can monitor the usage and movement of vehicles on your facility map. Our forklift tracker software uses a proprietary visual SLAM technology to elaborate the real time location of forklifts with a precision of 5 centimeters. Real-time position of the vehicles is made available through our dashboard and via API so that warehouses can integrate it into their existing WMS and create a complete forklift tracking solution.
The forklift tracking system is ideal for large warehouses, industrial facilities, loading docks, and construction sites.
Dragonfly, our RTLS forklift tracking system allows managers to monitor vehicle usage over time by different operators to glean information about work productivity and vehicle efficiency, and which forklifts are being underutilized.

You can also use spaghetti diagrams to create a visual display of the routes followed by each forklift during the day.
With Dragonfly you can potentially reduce the size of your fleet and the number of employees on the payroll.

There are three main ways this happens:
As a consequence you can reduce the operational costs of your warehouse and improve the supply chain management.
Dragonfly is a key component for modern and innovative fleet management systems: logistics operators are implementing advanced technologies to stay one step ahead of competitors by improving their warehouse operations with the help of solutions that create "smart warehouses".
Tracking data can be analysed and used by management to define warehouse rules, forklift routes, understand if operators take too much time to get the items in the warehouse, or even how many breaks an operator takes and how long. Basically you can understand how your operators work.
Dragonfly gives you complete access to raw data, too:
In addition, Dragonfly allows you to see the routes of each forklift, and advanced visualization can bring additional insights and an understanding of processes to streamline the traffic and remove bottlenecks. 
These include Heatmaps showing how the density of the traffic is distributed within the facility and Spaghetti diagrams visualizing the continuous flow of traffic throughout the halls.
These commonly understandable visualization methods help improve the operations and cut costs projects  and the general cost operations.
The system is composed of:
 

The camera, provided by Accuware, has to be mounted on the forklift's mast, ideally pointing towards the ceiling.

The computing unit can either be on board or on a server, locally installed inside the warehouse.

 

 

We also provide our "Dragonfly Streamer": a small unit that can be mounted on board the forklift. It requires just a power connection and a WiFi network, to stream the video from the built-in camera to our server. Then, you can see the location of the forklift in real time, directly from your smartphone or computer, by accessing the Dragonfly Dashboard.
Testimonials from real customers
Incredibly helpful technology. Most intelligent customer service experience I've ever had.
With Dragonfly we are now able to locate and track hundreds of forklifts across 28 warehouses in the USA. The ROI generated is way higher than our expectations, since we have been able to optimize the routes, picking processes and aisle management.
A wonderful Support team and a very useful product, very well structured.
The team has been very supportive and the installation is fairly simple. We hope to keep moving ahead with you and the approach you suggested supports that. Again, we appreciate the continued support and direction as we work through our proof of concept and pilot phases.
Are you ready to track your forklifts?
Get your Dragonfly Streamer now to test the system.